Why to organise an event in OSTRAVA?
1
HISTORY
Our ancestors played a central role in building European civilization! World-renowned figures such as the composer Leoš Janáček, the psychologist Sigmund Freud and the founder of genetics Gregor Mendel all left their mark on our culture and heritage.
2
ARCHITECTURE
Film-makers love Ostrava's unique urban scenery, full of atmosphere and contrasts. Modern buildings, industrial locations, Soviet-style 1950s architecture, stunning red-brick buildings, imposing castles and romantic chateaux. The Region's architecture has been shaped by world-renowned figures such as Hans-Georg Erhardt (Ropice Golf Resort) and Camillo Sitte (responsible for the entire central part of Ostrava's Přívoz district).
3
INDUSTRIAL
Ostrava's industrial revolution began in the 19th century when coal was discovered and Archbishop Rudolf established an ironworks in Vítkovice. The ironworks later came under the control of the Rothschilds, and these world-renowned financiers helped the company to flourish and grow into one of Central Europe's leading industrial powerhouses. Today the blast furnaces stand empty, and the coal mines are no longer active – but Ostrava's rich industrial heritage has been beautifully preserved in a plethora of historic buildings, which now offer ideal venues for your events. An amazing and unforgettable atmosphere is guaranteed!
4
CULTURE
Ostrava has a unique and vibrant cultural scene, renowned far beyond the borders of the Czech Republic. So why not plan your event to coincide with one of our many cultural festivals – all year round, there's always something happening here.
5
LIFESTYLE
Ostrava is one of Central Europe's greenest and most spacious cities. It is also renowned for its vibrant festivals, theatres, galleries, cafés, and the legendary entertainment quarter around Stodolní Street, with over 60 bars, pubs and clubs to suit all tastes. For weekend trips, the beautiful Beskydy and Jeseníky mountains are just a short hop away – an ideal leisure destination all year round.
6
EDUCATION
The Moravian-Silesian Region has four universities with almost 35 000 students specializing in a huge range of fields. Ostrava is renowned for its rich and vibrant student life.
7
PEOPLE
Here in Ostrava we're known for being honest and direct – we always say what we think. And once you get to know us, we'll be friends for life.
8
MULTICULTURAL
We host many festivals celebrating cultures from all around the world – Folklore Without Borders, Korean Days, Polish Days, French Autumn, and much more. We are multicultural to our core.
9
EASY ACCESS
Ostrava is so easy to get to. The city is just a few kilometres from Poland and Slovakia, and Ostrava's international airport is the gateway to the entire world.
10
FACILITIES
Large or small, grand or modest… here in Ostrava you can organize events of all types and sizes. With over 11 500 rooms and 570 accommodation providers (including 29 four-star hotels), you're sure to find precisely what you're looking for.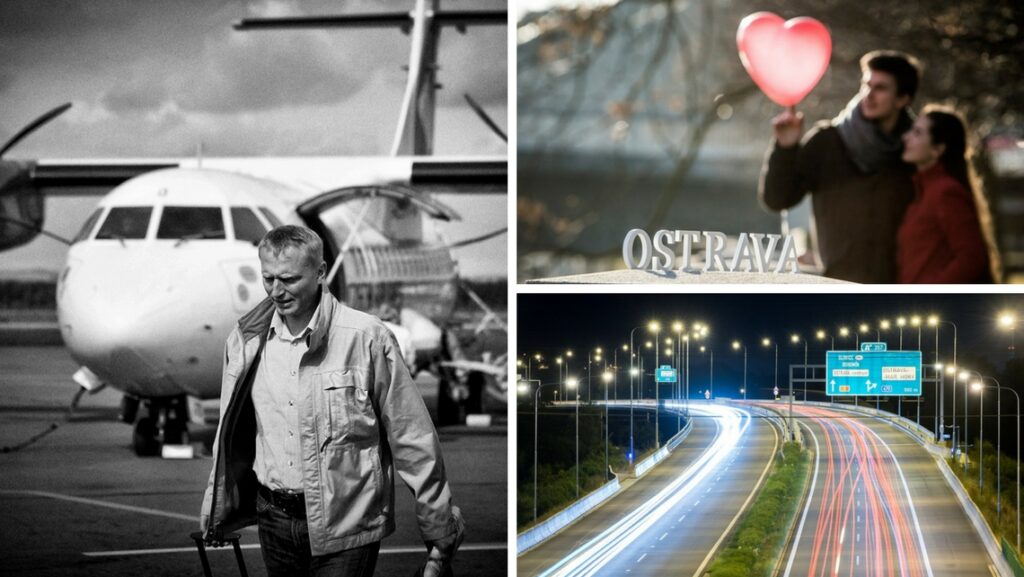 How to get to Ostrava
We're the heart of Europe
Ostrava, a metropolis of Moravian-Silesian Region, is in the very centre of Europe, just a few kilometres from the borders with Poland and Slovakia. How to get to Ostrava? Thanks to our excellent transport infrastructure, it is easy!
BY AIR
The Region has excellent air access thanks to its international airport, just 25 kilometres from Ostrava. The airport has year-round direct flights to London and Warsaw – plus more than ten additional destinations during the summer season. It is the first Czech airport to be accessible by rail. For more details see the Ostrava airport's website.
There is also easy road and rail access to the Region from other Central European airports – including Prague, Brno, Katowice, Krakow, Bratislava and Vienna.
BY RAIL
The Region is situated on a major European rail corridor, and can be easily accessed from Prague. The journey from Prague to Ostrava takes just three hours, and you can choose from three operators: Czech Railways, RegioJet and LEO Express. Click here for rail timetables.
BY ROAD
With a modern motorway network, the Region offers easy road access to all Central European capitals, including Prague, Warsaw, Bratislava, Vienna and Berlin.